Assalamualaikum wbt dan Salam Sejahtera anda semua ;) !
ohyeahh! follow segmen lain lagi. woaa, makin rajin pulak Shaz ni kan? hehe. korang? tak nak ke join segmen yg ini pulak? kalau nak, okayy korang ke sini yaaaa? :) scroll bawah :3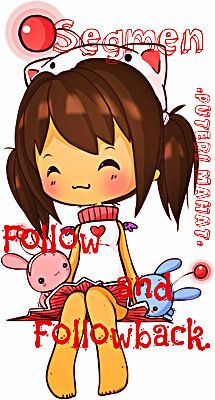 comel kan pic ini? *takde kena mengena* okok , ini link nya
secret secret secret
pergi kat situ kay klu mau join segmen nii ;) . btw, ada hadiah juga kayy. jgn risau :D okay la, Shaz mau stop intro and continue jawab soalan exam blog ni :DD hehe .
1. Nama:
Nur Shazryena Sakil
3. Status [single, taken, married, etc]:
TAKEN :D
4. Favourite colour:
blue, purple, brown, yellow
5. Birthdate:
18 July 1997
6. Sweet memories on 2012:
kursus pra haji di sekolah, kursus korban, hangout with THEM ;)
8. Crush. Yes or no?:
Yes
9. Still love your ex?:
NO! i'm not -.-
10. Is there second chance for your ex?:
I don't think so!
12. Weight:
30 . HAHA, to thin
13. Interest with Kpop?:
yes, i am.
14. Bestfriends:
Nur AsymiErrani, Kalsum, Nur Filzah Haziqah, Jamalina Asyiqin, Siti Zubidah
15. A friend from childhood:
Nur AsymiErrani, Kalsum, Nur Filzah Haziqah, Rebecca, Noradzshiella, Nurfatihah, Nurizatul Natasha, Atiqah, and more
16. Has someone break your heart?:
maybe, yes. my crush , absolutely!
17. Someone important:
Allah, Prophet, Family, Besties
18. Last time you cry:
not sure :/ sorry
19. Do you like my blog?:
ofcoz ! simple + smart + nice ;D
20. Any changes that I should do to my blog?:
i think, nope. bcs its nice ody ;)
SOALAN UNTUK AWAK :



1. Ada crush? siapa nama? :

2. Anak ke berapa daripada berapa adik beradik? :

3. Tinggal mana? :

4. Awak suka makan apa? :

5. Awak suka makan makanan jepun? :